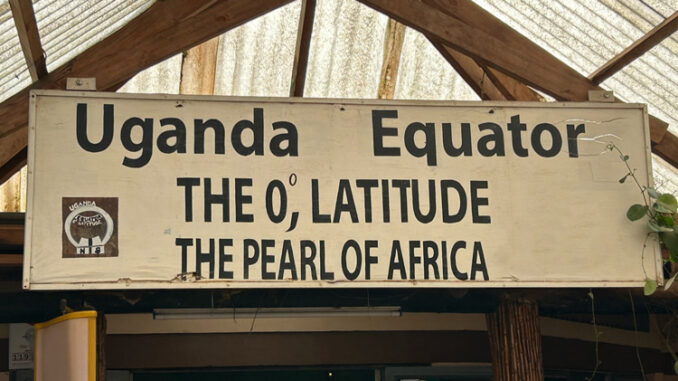 Uganda is a country in East Africa. It has a population of over 45 million people. People from many different cultures live there. Thirty-two different languages are spoken there. Uganda contains part of Lake Victoria. Lake Victoria is the largest freshwater lake in Africa. The Nile River, one of the largest rivers in the world, begins in Uganda.
Uganda is also one of only 13 countries in the world that the Equator runs through. The Equator is an imaginary line halfway between the North Pole and the South Pole. It divides the Earth between the northern and southern hemispheres. Many travelers to Uganda make sure they visit the Equator.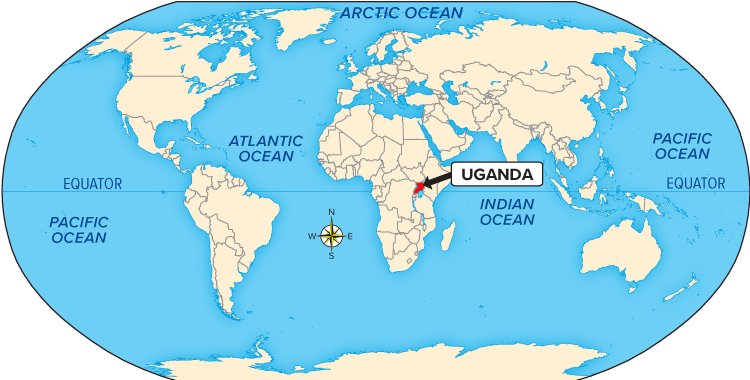 Three crossing points for the Equator have become popular tourist destinations. Kayabye is a town about an hour's drive from Kampala. Kampala is Uganda's capital and largest city. Queen Elizabeth National Park is a large park and wildlife reserve that the Equator crosses. The Equator also runs through Lake Victoria. People visit the Ssese Islands in Lake Victoria for the beaches and an Equator crossing point.
At the Equator, people take photos with one foot in the northern hemisphere and one foot in the southern hemisphere. They pour water from buckets down drains in each hemisphere. In the northern hemisphere, water spins clockwise. In the southern hemisphere, it spins counter clockwise. On the Equator, it just goes straight down. There are also restaurants on the equator as well as local arts and crafts to buy.
What Do You Think? Would you like to visit a place that lies on the Equator? What would you do there?
Photo Credits: [Top] Mural by Amanda Phingbodhipakkiya. Photo by Ben Lau; [Middle] Library of Congress, Prints & Photographs Division, photograph by Carol M. Highsmith [LC-DIG-highsm-66963] [Bottom] McGraw Hill