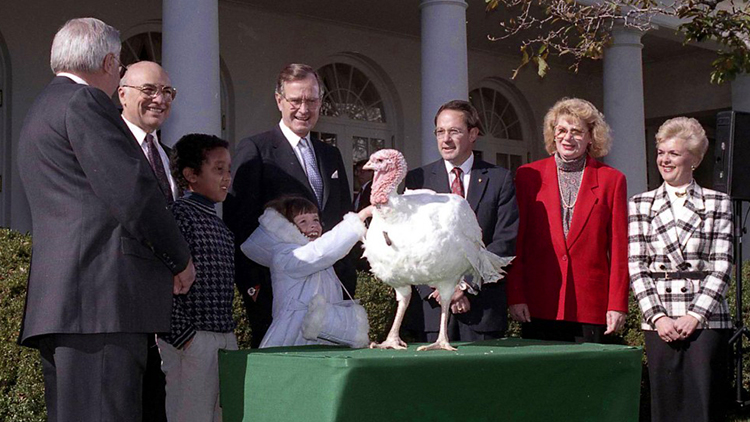 It was one day before Thanksgiving in 1989. Farmers from the National Turkey Federation presented President George H.W. Bush with a turkey. It seemed perfect for a Thanksgiving meal. The president disagreed.
In front of television cameras and reporters, President Bush said, "… let me assure you, and this fine tom turkey, that he will not end up on anyone's dinner table, not this guy — he's granted a Presidential pardon as of right now — and allow him to live out his days on a children's farm not far from here."
When a president officially pardons someone, that person does not get punished for a crime. President George H.W. Bush's pardon of a turkey added something playful to a long tradition.
Farmers started giving a turkey to the president in 1947. Harry Truman was president then. Truman said the turkey would come in handy for a holiday dinner. Later presidents such as John F. Kennedy and Ronald Reagan didn't have the turkeys for dinner. They sent the turkeys to live on a farm instead. Newspapers began to jokingly write refer to this as a reprieve [when a punishment is cancelled] or pardon.
While other presidents did not have the turkey for dinner, George H.W. Bush was the first president to give a speech to officially pardon the turkey. Since then, every year the president pardons a turkey.
What About You? What are some other Thanksgiving traditions you can think of?
Photo Credit: George Bush Presidential Library and Museum