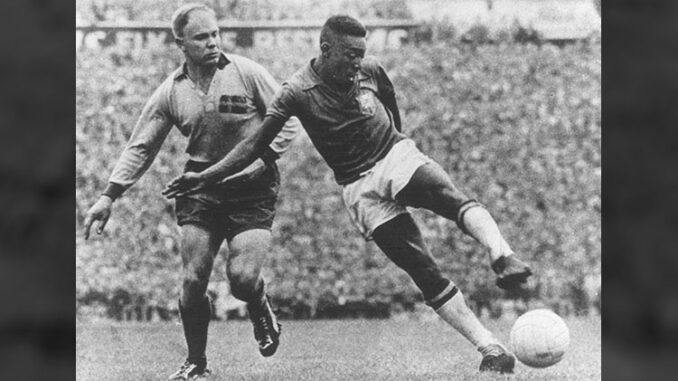 Pelé was a famous soccer player and humanitarian. A humanitarian works to improve the health and happiness of people in need. Pelé died on December 29, 2022. He was 82 years old. People around the world remember him as a great sports hero. They also remember the work he did to help fight poverty.
Pelé was born Edson Arantes do Nascimento in 1940 in Três Corações, Brazil. His parents named him after the inventor Thomas Edison. They moved to the city of Bauru, Brazil, to find better opportunities. That's where Pelé grew up. He lived in poverty for much of his early life. Still, he and his family made the best of what they had.
Pelé remembers having many friends in his neighborhood. They gave him the nickname "Pelé." Some of his friends were Black, and some were White. Others were children of Japanese immigrants. They shared a love of soccer. They had no equipment, so they made their own. They stuffed rags and paper into a sock to use as a soccer ball. They created a playing area at the end of a dead-end street. They called it the Rubens Arruda Street Stadium. They used old shoes as goalposts. Pelé developed his soccer skills in that pretend stadium.
Pelé was the unofficial captain of his soccer team. He came up with a way for the team to raise money to buy a real soccer ball. He discovered the importance of leadership and cooperation. These lessons helped him grow up to be one of the greatest soccer players of all time.
As a member of the Brazilian national team, he helped them win three World Cup championships. He never forgot the experiences and struggles he had early in life. He used his fame and reputation to help people in need throughout the world.
What Do You Think? What lessons have you learned that will help you when you're an adult?
Photo Credit: Popperfoto/Getty Images