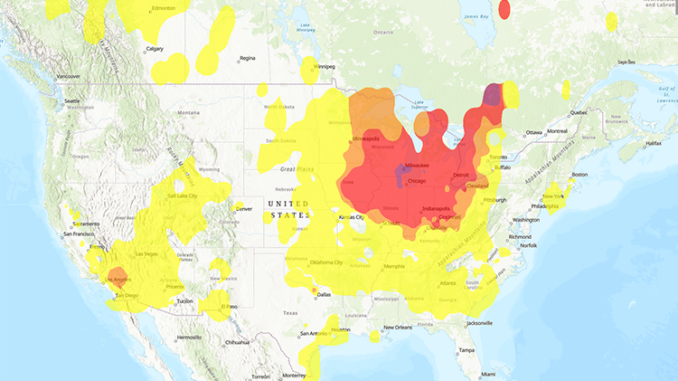 Have you ever had to stay inside due to bad weather? Maybe it was a thunderstorm, or a blizzard, or extreme heat. Lately, another issue has forced people to stay indoors: air quality.
This summer, people all over the East Coast and Midwest were forced to remain indoors. Canadian wildfires sent smoke into the region. It made the air unhealthy, and difficult to breathe. In recent years, wildfires have caused similar problems in California, Oregon, and Washington. How do people know when the air is not safe?
The Environmental Protection Agency (EPA) has a tool called the Air Quality Index (AQI). It measures how full of pollutants the air is. These pollutants include carbon monoxide, carbon dioxide, and particulate matter. These pollutants can all be found in smoke from wildfires. They can cause itchy eyes, sore throats, and more serious diseases. 
Using the AQI, the EPA can inform people where the air is not be safe. The map above shows the AQI when the Midwest was affected by Canadian wildfires. The EPA has six levels of AQI. They have coded them by color. Green is healthy. Yellow is moderate. Orange is unhealthy for sensitive groups. Red is unhealthy for everyone. Purple is very unhealthy. Maroon is hazardous, and should be considered an emergency.
What Do You Think? Why do you think it is important to measure the air quality?
Photo Credit: AirNow/U.S. Environmental Protection Agency