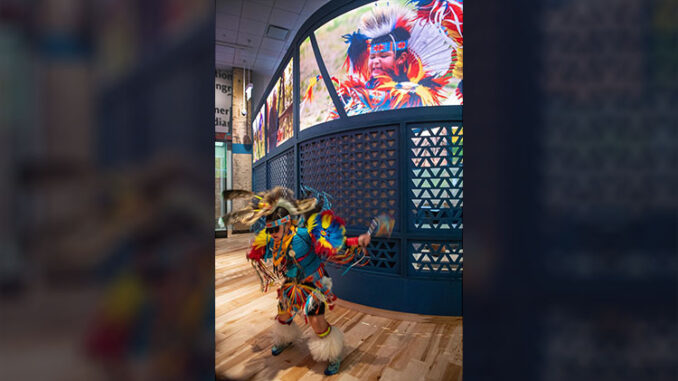 In 2019, a photographer for the Field Museum of Chicago, Illinois, took a photograph at the Meskwaki Annual Powwow. This is a large gathering and celebration of people from the Meskwaki Nation. The Meskwaki Nation is a nation of Native Americans that originated in the Eastern Woodlands [a region that stretches from the northeastern part of North America to west of the Great Lakes].It isnow located in Iowa. The picture showed a boy named Lerris Keahna. He is from the Meskwaki Nation. He was wearing regalia [handmade clothing for a special occasion] and performing a Meskwaki dance.
The Field Museum collaborated [worked together with someone to make something] with Meskwaki people to create this display. They wanted to use Lerris Keahna's picture in their exhibition. They asked Lerris if it was OK to use his picture. They also invited him to the grand opening of their exhibition, Native Truths: Our Voices, Our Stories. He accepted the invitation. He wore his regalia and performed his dance at the museum. This is part of what makes Native Truths so special. Lerris Keahna didn't just have his picture on a wall. He became a participant in the exhibition.
In the United States, we use the term Native American to talk about people who were in North America before the arrival of Europeans. Those people are still here. They are everywhere. Their nations have their own unique languages, experiences, and cultures. More importantly, they have their own stories. The Native Truths: Our Voices, Our Story exhibition gives Native Americans a space to tell their own story.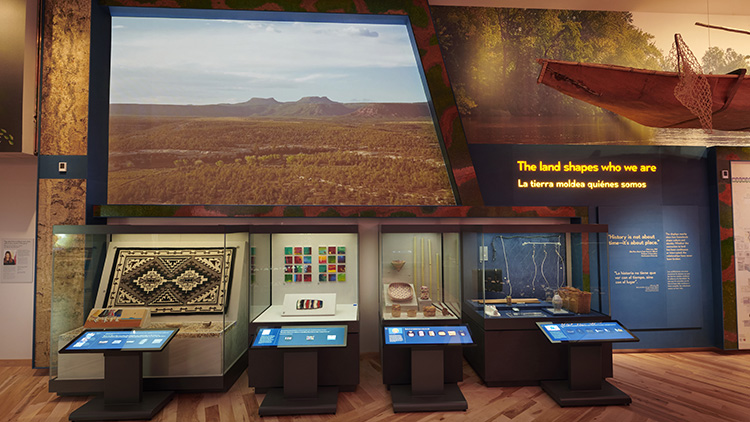 The Field Museum partnered with members of more than 100 Native American nations. Together, they selected art, belongings, photographs, and even video games to share with the museum's visitors. In the past, the Field Museum took things without asking and put them on display with little information. Native Truths now includes information about how the belongings are used and how they are made. The text, videos, music, and information in the exhibit came from Native people and is in their own voice.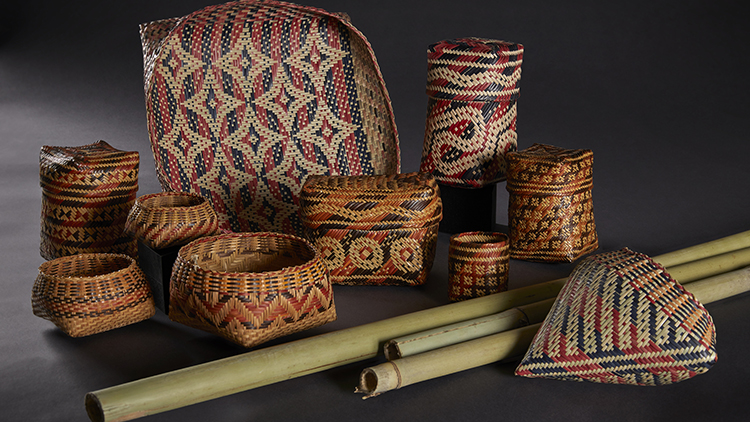 In many museums, Native American people are talked about as if they no longer exist. Native Truths: Our Voices, Our Stories introduces museum visitors to the many experiences Native American people have today. For example, one exhibit shows how basket weaving has been passed down between generations. Another exhibit shows how Lakota hip-hop artist Frank Waln includes Lakota musical instruments in his music. One exhibit even invites people to play a video game, Never Alone, based on Inuit stories.
What Do You Think? Why is it important for you to tell your own story? When someone asks you to tell your story, how would you respond?
Photo Credit: TOP: Holly Henderson, Gun Lake Tribe; CENTER: © Field Museum, photograph by John Weinstein; BOTTOM: © Field Museum, photograph by Michelle Kuo