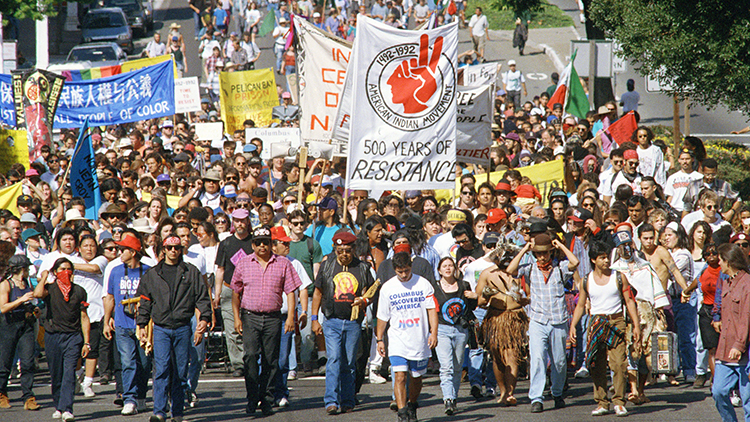 Columbus Day is a holiday that celebrates the day that Christopher Columbus landed in North America. Columbus Day became a federal holiday in 1937. It was celebrated on October 12. The government changed Columbus Day to the first Monday in October in 1971.
There were millions of people living in North America before Columbus arrived. They lived in many different Native American nations. In the 1990s, some communities in the United States started thought that we needed a special day to celebrate the people who lived here before Columbus arrived.
Many communities around the United States have replaced their Columbus Day parades. Now, they have celebrations that honor the people who were here long before the Europeans arrived. Vermont, Alaska, and Minnesota have changed the name of this holiday from Columbus Day to Indigenous Peoples' Day. Indigenous is something that has always been part of a region. South Dakota calls this day Native American Day. Parades and powwows remind us that Native Americans and their cultures are important to the history of this continent and to our country. We celebrate the important contributions they made to the land we now call the United States of America.
What Do You Think? Why is it important to have a day that celebrates Native American cultures?
Photo Credit: Paul Sakuma/AP Images