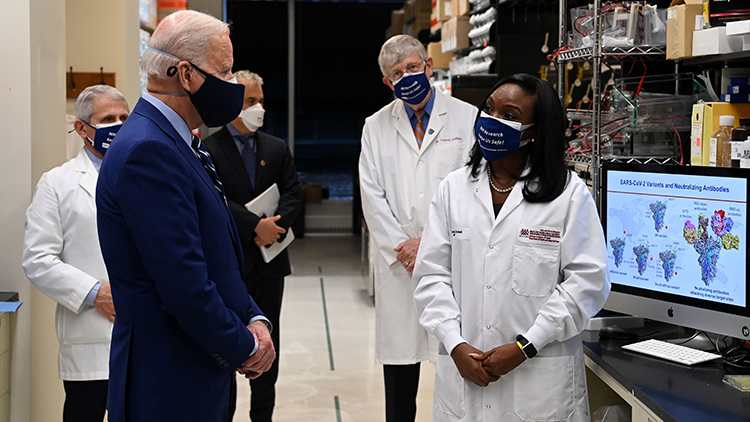 February is Black History Month. Have you ever heard of Dr. Kizzmekia Corbett? Let's find out more about her!
In 2019, across the world, a lot of people became sick. The people were sick with a virus called the Coronavirus. A virus can quickly spread from person to person. Dr. Kizzmekia Corbett is a doctor and a leading virus researcher. She knew how to protect people from viruses. In just about 21 months, Corbett and a team of researchers made one of the world's first coronavirus vaccines. A vaccine is something that helps your body fight off a virus.
As a high school student Kizzmekia was in Project Seed. Project Seed is a program for students from underrepresented groups interested in science. During her time with Project Seed, she studied chemistry. She went to college to study biology and sociology. Kizzmekia learned about how the human body catches and fights off viruses. She also learned about how communities of people interact and influence each other.
Dr. Corbett talks to people about viruses and vaccines to help them understand how they work and if they are safe. She thought of a way to help people who were afraid of vaccines. She says to practice viral inquisitiveness, which means to ask questions and try to understand people's fears. Dr. Corbett wants people to feel they can be honest about their feelings and ask questions about their health. She says that vaccines are an important part of how we can create health equity within our public health system.
What Do You Think? What problem would you like to solve? How can you learn more about the problem?
Photo Credit: SAUL LOEB/AFP via Getty Images