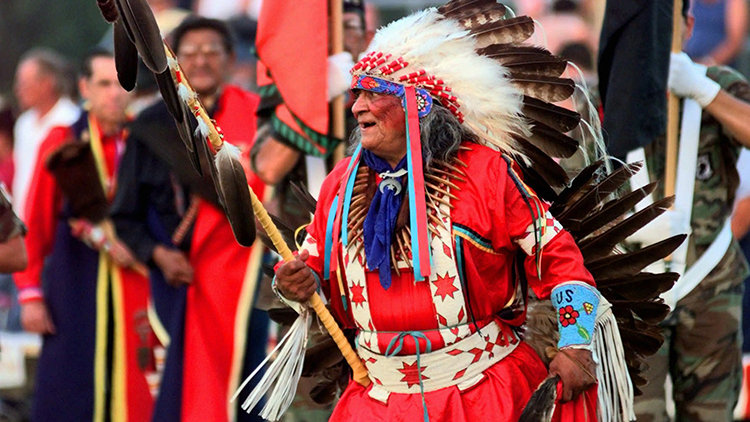 Every year, the Cherokee people celebrate the Cherokee National Holiday. It is held in Tahlequah, Oklahoma, on Labor Day Weekend. This holiday is a celebration of Cherokee history and culture. People from all over travel to the celebration. Each year the Holiday has a theme. The theme for 2019 is "Rising Together." It is about working together to build a bright future.
The Cherokee National Holiday honors an important event. In 1838, the United States government forced the Cherokee Native Americans to move. They moved to an area that is now part of Oklahoma. The Cherokee were forced to march 1200 miles in winter. More than 5,000 people died because they were hungry, cold, and sick. The trip is known as the Trail of Tears. Once they arrived, the Cherokee worked to rebuild their community. On September 6, 1839, the Cherokee Constitution was signed.
This day is marked with the Cherokee National Holiday. There are events for everyone. People play traditional Cherokee marbles. They play sports. The Cherokee National Youth Choir performs. Bluegrass and gospel groups play music and sing. Children listen to storytellers and watch a parade downtown. People eat traditional foods. They visit museums to learn about Cherokee heritage and family. The State of the Nation Address by the Principal Chief of the Cherokee Nation and the inter-tribal powwow are important events.
This year's Cherokee National Holiday will be held from August 30–September 1. All are welcome to come and enjoy the weekend.
What Do You Think? Why is it important for people to remember and celebrate the events of the past?
Photo Credit: J. Pat Carter/ASSOCIATED PRESS