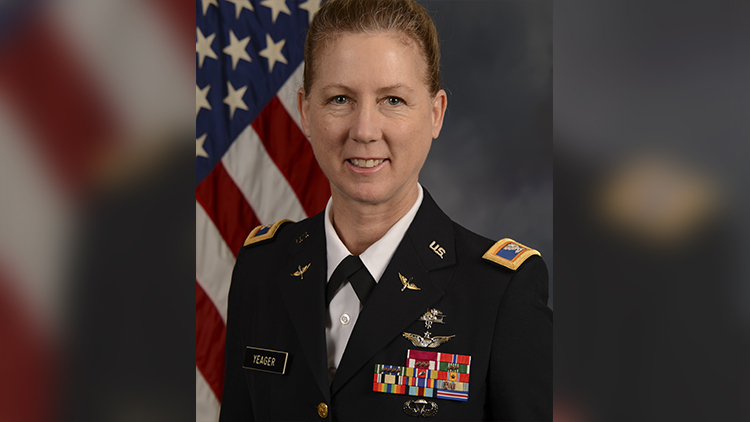 Laura Yeager is a major general in the United States Army. On June 29, 2019, she became the first woman to lead an infantry division. This is an important job in the army. She leads the 40th Infantry Division of the California National Guard. The division is based at Joint Forces Training Base in Los Alamitos, California. An infantry division has about 10,000 people in it. They do many different jobs to help protect and defend our country.
General Yeager is from an army family. Her father was also a major general in the army. He flew helicopters during the Vietnam War. Her son is in the Army Reserve. And her husband was a lieutenant colonel. That's a lot of service to our country in one family!
General Yeager is from Fountain View, California. She went to college at the University of California at Irvine. She joined the army in 1986. General Yeager has had many different jobs in the army. She was a platoon leader. A platoon leader is in charge of 25-50 soldiers. She also flew Black Hawk helicopters in Iraq. General Yeager has received many awards. She received a Legion of Merit, a Bronze Star, and a Meritorious Service Medal.
Women like General Yeager are helping to bring changes to the armed services. More women are joining the armed services. They are doing jobs that women were not allowed to do in the past. The work they do will help open doors for other women in the armed services today and in the future.
What Do You Think? How can the work of women like General Yeager help other women in the armed forces?
Photo Credit: Photo by Cpl. Danielle Rodrigues/DVIDS