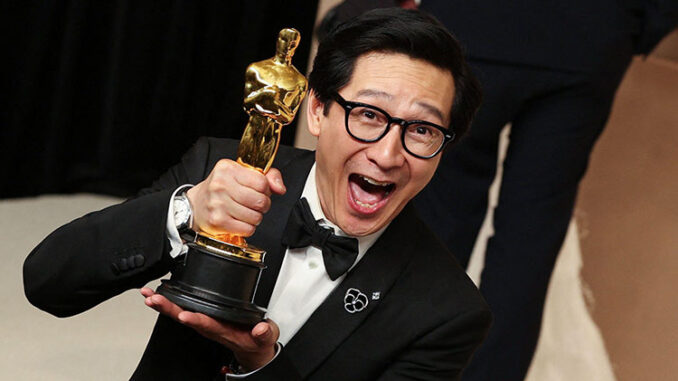 Do you have a dream of something you want to do in the future? Making a dream come true takes a lot of hard work. Ke Huy Quan worked hard and overcame challenges to fulfill his dream of becoming a well-respected actor.
Ke Huy Quan's life began in Saigon, Vietnam, in 1971. Vietnam is a country in Southeast Asia. His mother and father are of Chinese descent. In 1978, he and his parents and siblings fled from Vietnam as refugees. They escaped from hardship caused by the Vietnam War. They lived in a refugee camp in Hong Kong for more than a year. In 1979, they were allowed to move to the United States through the US Refugee Admissions Program. They settled in Los Angeles, California.
In 1983, Quan and other kids from his elementary school tried out for a major film role. Quan passed the audition. He starred as Harrison Ford's sidekick Short Round in the movie Indiana Jones and the Temple of Doom. He next landed the role of Richard "Data" Wang in the now-classic film The Goonies. After that, he got other parts in movies and TV shows. But once he became an adult, it was hard for him to get acting jobs. He found that Asian American actors did not have the same opportunities in Hollywood. He walked away from his dream of acting out of frustration with the movie business.
More than 20 years after his last movie role, Quan decided to get back into acting. Seeing the 2018 film Crazy Rich Asians inspired him to do so. This movie showed him that there were new and better opportunities for Asian American actors. He hired an agent to help him find work. Soon he got a part in the science fiction film Everything Everywhere All at Once. He worked hard to prepare for the role. He won this year's Academy Award for Best Supporting Actor for his performance. He is now living his dream once again.
What Do You Think? Do you have a dream job you'd like to do as an adult? What will you need to do to get that job? 
Photo Credit: Mike Blake/REUTERS/Alamy Stock Photo