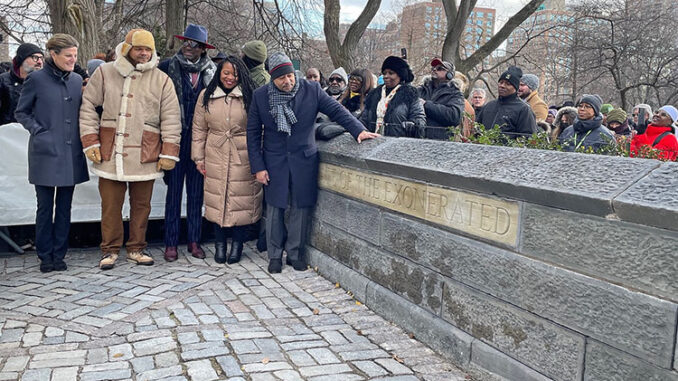 Central Park is a beautiful and peaceful park in the middle of New York City. It is surrounded by a low stone wall with many entryways. These are called gates. The names of the original eighteen gates were chosen in 1862 during the planning of the park.
In 2022, a new gate was named for the first time. The new gate is called the Gate of the Exonerated. Exonerated means to admit that someone is not guilty. The Gate of the Exonerated honors all the innocent people who have been wrongly convicted. It especially honors five Black youths who came to be known as the Central Park Five. Later, they became Exonerated Five.
One night in April 1989, the police received reports of people being attacked in Central Park. They discovered a White woman lying next to a path. She had been jogging and was attacked so badly she was almost dead. The police believed five Black youths were guilty of the crime. The police tricked them into making a confession. The Central Park Five were sent to prison for many years.
In 2002, another man confessed to the crime. A judge exonerated the Central Park Five. The youths were now men. Only the oldest one, who got the longest sentence, was still in prison. He was immediately released. Today, the men are known as the Exonerated Five. On December 19, 2022, the twentieth anniversary of the exoneration, three of the men unveiled the new gate. Their families, friends, and community came to watch.
What Do You Think? What do you think should happen when people are falsely convicted of a crime?
Photo Credit: McGraw Hill