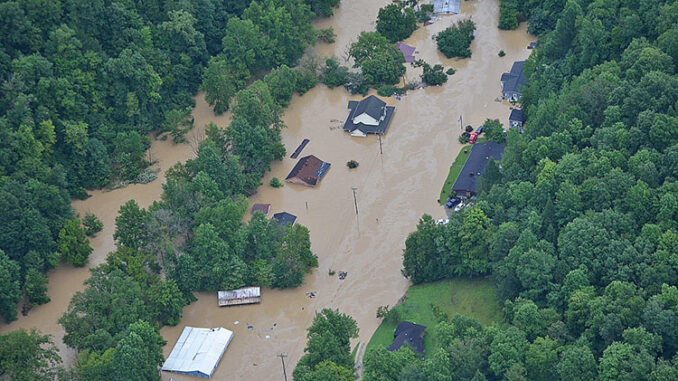 At the end of July, heavy rains caused deadly flooding in Kentucky. The flooding put many people in danger. It also damaged roads and bridges, making it difficult to rescue those people. At least 39 people lost their lives because of the flooding. Hundreds of homes have been destroyed. More than 25,000 people have lost electric power in their homes.
Kentucky governor Andy Beshear declared an emergency. He activated the National Guard. They used boats and helicopters to rescue people. National leaders visited the areas to inspect the damage and comfort people. The Federal Emergency Management Agency (FEMA) is giving aid to help rebuild after the flooding. Other groups such as the Red Cross are also helping.
Extreme weather events such as flooding are happening more often. Scientists believe this is because of climate change. Congress just passed a bill to help fight climate change. It will pay for more energy sources, such as solar and wind power, that do not cause climate change. This is one part of a long-term effort to reduce the effects of climate change. However, in the short term, people are continuing their efforts to help the victims of the floods in Kentucky.
What Can You Do Check with local organizations that help people in need. See if you can volunteer or donate to help people hurt by the floods in Kentucky.
Photo Credit: Photo by Sgt. Jessica Elbouab/DVIDS