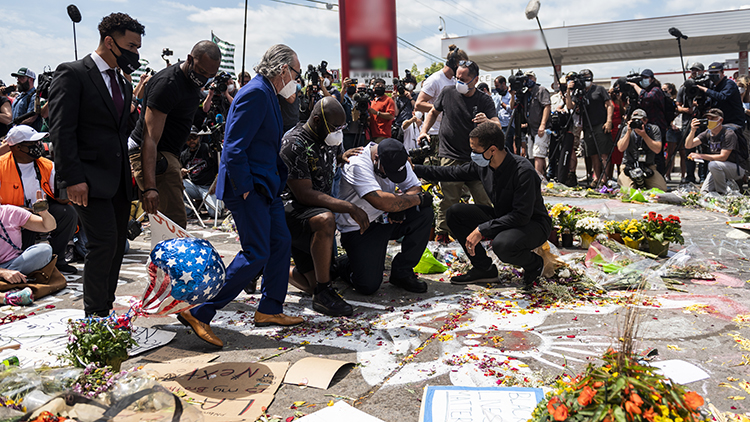 On May 25, an African American man named George Floyd was killed in Minneapolis, Minnesota. The police were arresting him. He had no weapons. A video shows a white police officer pressing his knee on George Floyd's neck. He told police, "I can't breathe."
George Floyd is not the first unarmed African American to be unjustly killed. Recently a man named Ahmaud Arbery and a woman named Breonna Taylor have also been killed. Cases like this have happened too many times. People are angry, sad, and in pain. People from many different racial and ethnic groups took part in the protest to push for the rights of African Americans.
Many peaceful demonstrators are gathering in cities around the United States. At night, violence has erupted at some of the protests. People have lit buildings on fire and flipped police cars over. Others have smashed store windows and stolen things. Police have used tear gas [a chemical that is used to break up crowds] and rubber bullets on demonstrators.
Some people are damaging property because they believe it is the only way people will pay attention to their anger at an unjust system. However, community leaders and most of the demonstrators are calling for peace and calm. Many are also asking for change. They want people to understand the anger in the African American community. They want people to use anger to change a country where so many African Americans fear for their lives.
What Can You Do? Talk to a grown-up about issues in your community. Is there something that you would both like to change? How would you do that?
Photo Credit: Stephen Maturen/Stringer/Getty Images