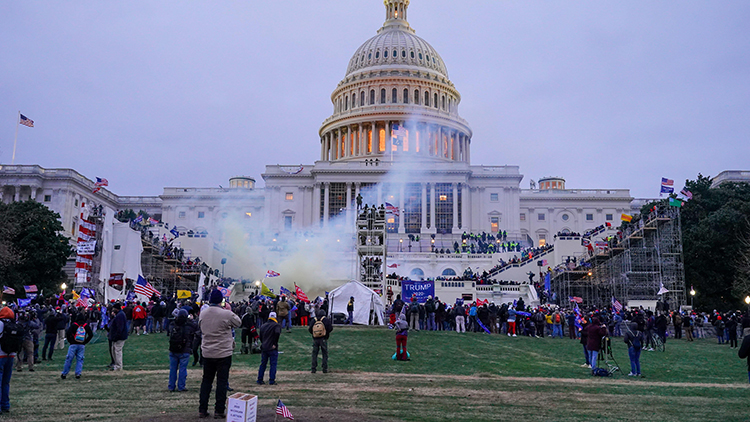 On January 6, 2021, in Washington, D.C., a hostile group of Trump supporters attacked the United States Capitol building. Congress was in session. They wanted to stop Congress from certifying [formally recognizing] the electoral votes that would make President-elect Joe Biden and Vice President-elect Kamala Harris's election official. Many people were injured during the attack. One police officer and several rioters are dead. Once the Capitol building was safe, Congress went back to work. Later that night, they made the election results official.
Democratic governments rely on peaceful protest. They also rely on the peaceful transition of power. The loser of an election willingly surrenders power to the winner. President Donald Trump refuses to concede [admit that something is true] his defeat in the 2020 presidential election. He claims that the election was not run fairly. Many courts, states, and the United States Justice Department have found no evidence that the election results were wrong.
President Trump spoke to his supporters at a rally. He repeated his false claims. He told his supporters that they should march to the United States Capitol building. Marching to the Capitol and demonstrating peacefully is allowed. People violently and illegally entered the building. That is not. This is the first time American citizens have tried to stop the United States Congress from completing a constitutional process. It is also the first time the tradition of the peaceful transition of power has not been honored. President Trump later made a video message telling people to go home. However, he continued to make false claims about the election.
Many Americans are shocked. A hostile group violently entered the United States Capitol building. Law enforcement seemed unprepared for the threat. Representative Cori Bush of Missouri took part in multiracial Black Lives Matter protests throughout the summer. She remarked that police response to those protests was much more forceful than the police response to the attack by the mainly White rioters.
The events of January 6, 2021, have shown how divided the country continues to be. In Washington, D.C., leaders are working to bring order back to the capital city. Across the nation, citizens are looking for ways they can help our nation. In a democratic government, the only way to make the government work is for people who disagree to cooperate and work with each other.
What You Can Do Talk to an adult that you trust. What are you feeling? What questions do you have about what happened? What are ways that you try to resolve conflicts in your life?
Photo Credit: John Nacion/SOPA Images/ZUMA Wire/Alamy Stock Photo