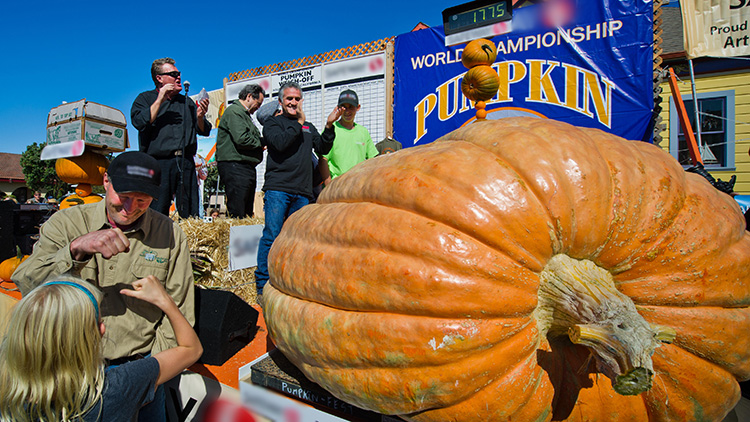 The leaves are changing colors. Fall is here. Crops are ready to harvest. Many communities celebrate fall with festivals.
Pumpkins are part of many fall celebrations. In Dallas, Texas, the Dallas Arboretum creates an entire village out of pumpkins. They use over 90,000 pumpkins. Frerichs Farm in Warren, Rhode Island holds, a pumpkin weigh-off. This is a contest to see who can grow the largest pumpkin. Last year's champion set a North American record. It was 2,261 pounds. That's bigger than some cars.
Pumpkins are not the only crop celebrated in fall. The Warrens Cranberry Festival in Warrens, Wisconsin celebrates the cranberry harvest. It features a parade, contests, and tours of a cranberry marsh. For over 50 years people have gathered in Arendtsville, Pennsylvania for the National Apple Harvest Festival.
One festival in Idaho takes a different approach to fall. Instead of focusing on fall crops, the Trailing of the Sheep Festival focuses on livestock [animals raised by farmers to be bought and sold]. During the festival, people herd sheep through Sun Valley, Ketchum, and Hailey, Idaho. This moves the sheep off a cold mountain. The sheep need a warmer grazing area during winter.
What About You? How do you celebrate fall? What kind of festivals take place in your community?
Photo Credit: Manny Crisostomo/Sacramento Bee/ZUMA Press Inc/Alamy Stock Photo